3 Comments
How To Send HTTP Request GET/POST In Java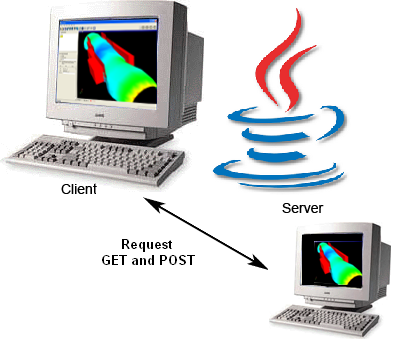 A brief Introduction
Client server architecture requires two parts as main resources:
Client

and

Server
In this client server architecture, A client "requests" or "asks" the server and the server "serves" or "answers" the request.
For example, I enter "www.google.com" in my browser and press "enter". What is happening is that I am requesting the google server to "serve" me by showing me the search page.
In this case, I am the client and GOOGLE is the server which gives me the google search page having that search bar thingy

Now, a request can be of two types:
GET and

POST
The difference between both is beyond the scope of this article, and as you can see, despite trying, my "Brief Introduction" is already getting longer, isn't it ?
In this article, we will show you two examples to make HTTP GET/POST request via following APIs:
Standard HttpURLConnection
Apache HttpClient library (Discussed here)
Java HttpURLConnection example
This example uses HttpURLConnection (http) and HttpsURLConnection (https) to
Send an HTTP GET request to Google.com to get the search result.
Send an HTTP POST request to Apple.com search form to check the product detail.
HttpURLConnectionExample.java
1

2

3

4

5

6

7

8

9

10

11

12

13

14

15

16

17

18

19

20

21

22

23

24

25

26

27

28

29

30

31

32

33

34

35

36

37

38

39

40

41

42

43

44

45

46

47

48

49

50

51

52

53

54

55

56

57

58

59

60

61

62

63

64

65

66

67

68

69

70

71

72

73

74

75

76

77

78

79

80

81

82

83

84

85

86

87

88

89

90

91

92

93

94

95

96

97

98

99

100

101

package

com

.

mudassirshahzad

;

import

java

.

io

.

BufferedReader

;

import

java

.

io

.

DataOutputStream

;

import

java

.

io

.

InputStreamReader

;

import

java

.

net

.

HttpURLConnection

;

import

javax

.

net

.

ssl

.

HttpsURLConnection

;

public

class

HttpURLConnectionExample

{

private

final

String

USER_AGENT

=

"Mozilla/5.0"

;

public

static

void

main

(

String

[

]

args

)

throws

Exception

{

HttpURLConnectionExample

http

=

new

HttpURLConnectionExample

(

)

;

System

.

out

.

println

(

"Testing 1 - Send Http GET request"

)

;

System

.

out

.

println

(

"\nTesting 2 - Send Http POST request"

)

;

private

void

sendGet

(

)

throws

Exception

{

String

url

=

"http://www.google.com/search?q=mkyong"

;

HttpURLConnection

con

=

(

HttpURLConnection

)

obj

.

openConnection

(

)

;

// optional default is GET

con

.

setRequestMethod

(

"GET"

)

;

con

.

setRequestProperty

(

"User-Agent"

,

USER_AGENT

)

;

int

responseCode

=

con

.

getResponseCode

(

)

;

System

.

out

.

println

(

"\nSending 'GET' request to URL : "

+

url

)

;

System

.

out

.

println

(

"Response Code : "

+

responseCode

)

;

BufferedReader

in

=

new

BufferedReader

(

new

InputStreamReader

(

con

.

getInputStream

(

)

)

)

;

StringBuffer

response

=

new

StringBuffer

(

)

;

while

(

(

inputLine

=

in

.

readLine

(

)

)

!=

null

)

{

response

.

append

(

inputLine

)

;

System

.

out

.

println

(

response

.

toString

(

)

)

;

private

void

sendPost

(

)

throws

Exception

{

String

url

=

"https://selfsolve.apple.com/wcResults.do"

;

HttpsURLConnection

con

=

(

HttpsURLConnection

)

obj

.

openConnection

(

)

;

con

.

setRequestMethod

(

"POST"

)

;

con

.

setRequestProperty

(

"User-Agent"

,

USER_AGENT

)

;

con

.

setRequestProperty

(

"Accept-Language"

,

"en-US,en;q=0.5"

)

;

String

urlParameters

=

"sn=C02G8416DRJM&cn=&locale=&caller=&num=12345"

;

DataOutputStream

wr

=

new

DataOutputStream

(

con

.

getOutputStream

(

)

)

;

wr

.

writeBytes

(

urlParameters

)

;

int

responseCode

=

con

.

getResponseCode

(

)

;

System

.

out

.

println

(

"Sending 'POST' request to URL : "

+

url

)

;

System

.

out

.

println

(

"Post parameters : "

+

urlParameters

)

;

System

.

out

.

println

(

"Response Code : "

+

responseCode

)

;

BufferedReader

in

=

new

BufferedReader

(

new

InputStreamReader

(

con

.

getInputStream

(

)

)

)

;

StringBuffer

response

=

new

StringBuffer

(

)

;

while

(

(

inputLine

=

in

.

readLine

(

)

)

!=

null

)

{

response

.

append

(

inputLine

)

;

System

.

out

.

println

(

response

.

toString

(

)

)

;
Output
Sending 'GET' request to URL : http://www.google.com/search?q=mkyong
Response Code : 200
Google search result…

Testing 2 – Send Http POST request

Sending 'POST' request to URL : https://selfsolve.a`pple.com/wcResults.do
Post parameters : sn=C02G8416DRJM&cn=&locale=&caller=&num=12345
Response Code : 200
Apple product detail…
An example using Apache HttpClient library is discussed here
References